Fluzamed (Eye/Ear Drops)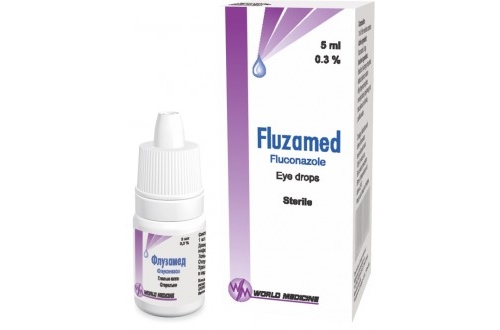 Web Page: http://www.wm-ophthalmics.com/
Fluzamed (Eye/Ear Drops)
(Fluconazole)


COMPOSITION
Each ml contains fluconazole 3 mg.

THERAPEUTIC INDICATIONS
- Fungal keratitis, scleritis, endophthalmitis and other fungal eye disorders.
- At treatment of antibiotics and corticosteroids.

CONTRAINDICATIONS
Hypersensitivity to fluconazole.

ADVERSE EFECTS
Seldom irritation and red eyes may be observed.

DOSAGE AND ADMINISTRATION
Instill in lower conjunctival sac by 1-2 drops 4 times daily. Treatment duration should not exceed 3 weeks. If symptoms still retain after 3 weeks of treatment, visit a doctor.

PREGNANCY AND LACTATION
There is little information about fluconazole use when pregnancy that is why level of safety with such patients is not determined. Fluconazole application is also not recommended in period of lactation.

SPECIAL INSTRUCTIONS
Patients wearing contact lenses should not apply eye drops Fluzamed as the preservative may accumulate in soft contact lenses and have adverse action on eye tissues.
It is not allowed to touch dropper tip and surface, as it may contaminate solution.

MANUFACTURED FORM
5 ml plastic vial with dropping stopper and screw cap, supplied with guard ring. Vial in carton box with packaging leaflet.