NOZEYLIN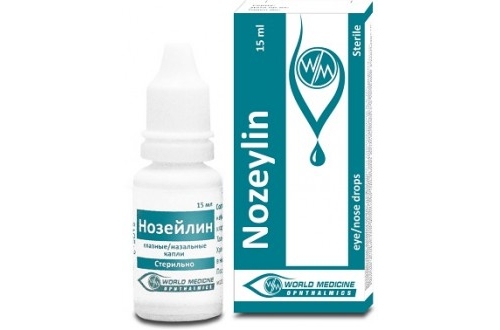 Web Page: http://www.wm-ophthalmics.com/
Nozeylin (Eye/Nose Drops)
(Naphazoline hydrochloride, Chlorpheniramine maleate)


COMPOSITION
Each ml contains naphazolin hydrochloride 0.5 mg, chlorpheniramine maleate 0.5 mg.

INDICATIONS
- Rhinitis (acute, allergic), sinusitis;
- Nasal hemorrhage (as vasoconstrictor) to stop and alleviate conduction of rhinoscopy;
- Hay fever;
- Conjunctivitis (allergic, chronic);
- Asthenopic disorders (accommodation disturbance in case of enlarged visual activity)
- Spring conjunctivitis (in combined therapy).

CONTRAINDICATIONS
- Rased sensitivity towards any drug's component.
- Arterial hypertension;
- Tachycardia;
- Hyperthyroidism;
- Evident atherosclerosis;
- Angle-closure glaucoma;
- Parallel intake with MAO inhibitors, and within 14 days after their cancellation.
- Nozeylin is contraindicated to children till the age of 6.

ADVERSE EFFECTS
Adverse effects caused by local action of the drug: mydriasis, lacrimation, intraocular pressure increase, hyperemia increase, irritation, discomfort, burning, in case of long use – nose mucous membrane edema, atrophic rhinitis. Adverse effects caused by systemic action of the drug: dizziness, headache, nausea, weakness, sleepiness, irritation, arterial hypertension, tachycardia.

PRECAUTIONS
It is recommended to have not long break after 5-7 days of treatment with the drug. It is not recommended to use the drug in case of chronic rhinitis. To use with caution to patients with heavy cardio-vascular deceases including cardiac rate abnormalities, hardly controlled arterial hypertension and patients with diabetes mellitus, especially with disposition to ketoacidosis. Eye drops Nozeylin must be used with caution during driving, work with complicated machines, as it can appear temporary blurred vision immediately after instillation.

DOSAGE AND ADMINISTRATION
Eye drops: To adults and children at the age of 6 and elder the recommended dose of the drug is 1-2 drops in conjunctival sac of effected eye (or both eyes) to 4 times a day. Nose drops: To adults and children at the age of 6 and elder the recommended dose of the drug is 1-2 drops in every nasal meatus 3-4-times a day. To prevent contamination of the content on the vial-dropper must be avoided touching of the top of dropper with any surfaces. After use close the vial tightly.

PREGNANCY AND LACTATION
Prescription of Nozeylin during pregnancy can be only if probable benefit for mother is higher that potential risk for fetus. Nozeylin must be prescribed with care in period of breast feeding.

MANUFACTURED FORM
15 ml of eye/nose drops is in a plastic vial with a dropper and screw cup. 1 vial with a dropper in a carton box with an annotation-insert.